Welcome
Check for advance tickets only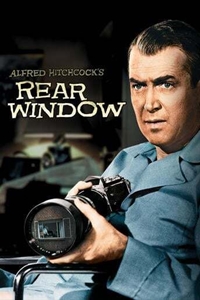 Rear Window (1954)
Opens 8/1/1954
Rated PG
"DespuÚs de romperse una pierna en una misiˇn peligrosa, el fotˇgrafo profesional Jeff (James Stewart) estß confinado en su apartamento de Greenwich Village, en una silla de ruedas mientras se recupera. La ventana de su dormitorio da un patio interior y para matar el tiempo del verano, decide observar a sus vecinos que dejan las ventanas abiertas para soportar mejor el calor.
CAN'T FIND THE SHOW TIME YOU ARE LOOKING FOR?
We post new schedules on Tuesday evenings for Friday through the following Thursday.
In some cases, advance tickets for future releases will be posted by date.
Closed Captioning and Descriptive Video devices available by request at theater box office.
Buscar Horarios y Comprar Entradas
*Click on time to purchase tickets