Welcome
Check for advance tickets only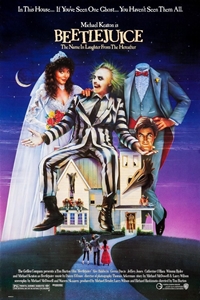 Beetlejuice
Opens 3/30/1988
Rated PG
"Adam Maitland (Alec Baldwin) y Barbara (Geena Davis) son una pareja de recién casados que durante su viaje de novios sufren un accidente de coche. Aparentemente son una pareja normal pero... resulta que están muertos. Ambos han fallecido en un accidente de coche poco tiempo después de estrenar su nueva casa, en la que invirtieron mucho tiempo para decorarla y hacerla suya. Charles (Jeffrey Jones), Delia (Catherine O'Hara) y la hija de Charles, Lydia (Winona Ryder), son los nuevos propietarios de la casa. La nueva familia está decidida a darle a la casa una nueva imagen. Adam y Barbara tratan de asustarlos constantemente ya que están algo molestos con los nuevos inquilinos, por lo que éstos deciden pedir ayuda a un exorcista freelance (o como él se denomina bioexorcista) llamado Beetlejuice (Michael Keaton), pero los métodos que utilizan para echar a los vivos de la casa son un poco extremos.
CAN'T FIND THE SHOW TIME YOU ARE LOOKING FOR?
We post new schedules on Tuesday evenings for Friday through the following Thursday.
In some cases, advance tickets for future releases will be posted by date.
Closed Captioning and Descriptive Video devices available by request at theater box office.
Buscar Horarios y Comprar Entradas
*Click on time to purchase tickets