Welcome
Check for advance tickets only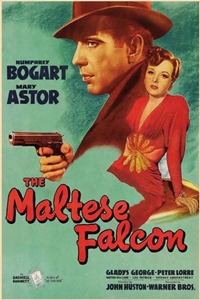 The Maltese Falcon (1941)
Opens 10/3/1941
Rated NR
"Una serie de personajes sin escr˙pulos no se detendrßn ante nada en su lucha por echarle el guante a una valiosa joya histˇrica con forma de halcˇn. Los Caballeros de la Orden de Malta obsequiaron en el siglo XVI al Emperador Carlos V con esa joya, ba˝ada en oro macizo y decorada con incrustaciones de piedras preciosas. Sin embargo, esa joya nunca llegˇ a manos del Emperador porque la galera que la trasportaba fue asaltada por piratas y naufragˇ.
CAN'T FIND THE SHOW TIME YOU ARE LOOKING FOR?
We post new schedules on Tuesday evenings for Friday through the following Thursday.
In some cases, advance tickets for future releases will be posted by date.
Closed Captioning and Descriptive Video devices available by request at theater box office.
Buscar Horarios y Comprar Entradas
*Click on time to purchase tickets