Welcome
Check for advance tickets only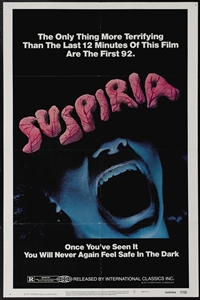 Suspiria (1977)
Opens 8/12/1977
Rated R
A medio camino entre un cuento de hadas espeluznante y un relato de brujería, la película sigue el camino de Suzy Banyon, una joven bailarina de ballet norteamericana, con motivo de su llegada a la prestigiosa escuela de baile Tans Academy en Freiberg, Alemania. Desde el primer momento, Suzy siente que algo terrorífico parece esconderse detrás de las paredes de tan respetada y legendaria institución. Sus compañeras de clase se comportan de una manera muy peculiar y, además, una serie de terribles asesinatos empieza a asolar los pasillos del edificio donde viven internas. Convencida de que el pasado oculto de la escuela y la historia de su fundadora contienen las claves de lo que está sucediendo, Suzy se embarca en un pesadillesco viaje alucinatorio a la búsqueda de una de las brujas más poderosas y temibles de la historia.
CAN'T FIND THE SHOW TIME YOU ARE LOOKING FOR?
We post new schedules on Tuesday evenings for Friday through the following Thursday.
In some cases, advance tickets for future releases will be posted by date.
Closed Captioning and Descriptive Video devices available by request at theater box office.
Buscar Horarios y Comprar Entradas
*Click on time to purchase tickets