Welcome
Check for advance tickets only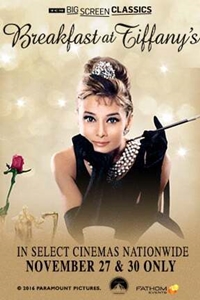 Breakfast at Tiffany's
Opens 10/5/1961
Rated NR
Un escritor deseando encontrar éxito vive de la relación que tiene con una mujer madura que lo mantiene. Holly Golightly es su vecina nueva. Ella es joven, rica y algo maniática. Él que instantáneamente intrigado por ella. Descubre que debajo de su personalidad sofisticada hay una chica vulnerable que también sobrevive de los que la mantienen.
CAN'T FIND THE SHOW TIME YOU ARE LOOKING FOR?
We post new schedules on Tuesday evenings for Friday through the following Thursday.
In some cases, advance tickets for future releases will be posted by date.
Closed Captioning and Descriptive Video devices available by request at theater box office.
Buscar Horarios y Comprar Entradas
*Click on time to purchase tickets